I decided to convert our upstairs bedroom to work studio/guest room. I know many folks will think I am crazy but to those who know me, this will come as no surprise. I rearrange our furniture with the changing of each season. When we built our home seven years ago, we envisioned having an upstairs loft bedroom. Nothing to big but we did want lots of windows and French doors opening on to a balcony. Let me tell you, Honey did build me the perfect bedroom. I better back up here and let you know a little history about our home. We built an all metal house. My husband with the help of his brother and many friends built our home from the ground up. We are truly blessed to have amazing family and friends. But sometimes unforeseen circumstances can change life in the blink of an eye. One night, Honey had an accident, similar to sleepwalking and did not realize he was upstairs and he got up one night, still asleep and fell down our stairs and suffered a traumatic brain injury. Of course being the typical man, once he recovered, the first thing he wanted to do was move back upstairs. I obliged but I never slept good again. I always feeling for him and making sure he was awake when he would get up. Low and behold when he mentioned our bedroom would make a wonderful work studio and maybe we should move downstairs, I jumped on that like fly on butter
So here is where we are, come follow me as we convert our dream bedroom in to a work studio/guest room. We transformed the room using free junk finds. One man's junk is another man's treasure:)

Here is a photo of our dream bedroom. We never wanted a large room but did want it filled with natural light. That is Miss Alice, she loves to have her picture taken!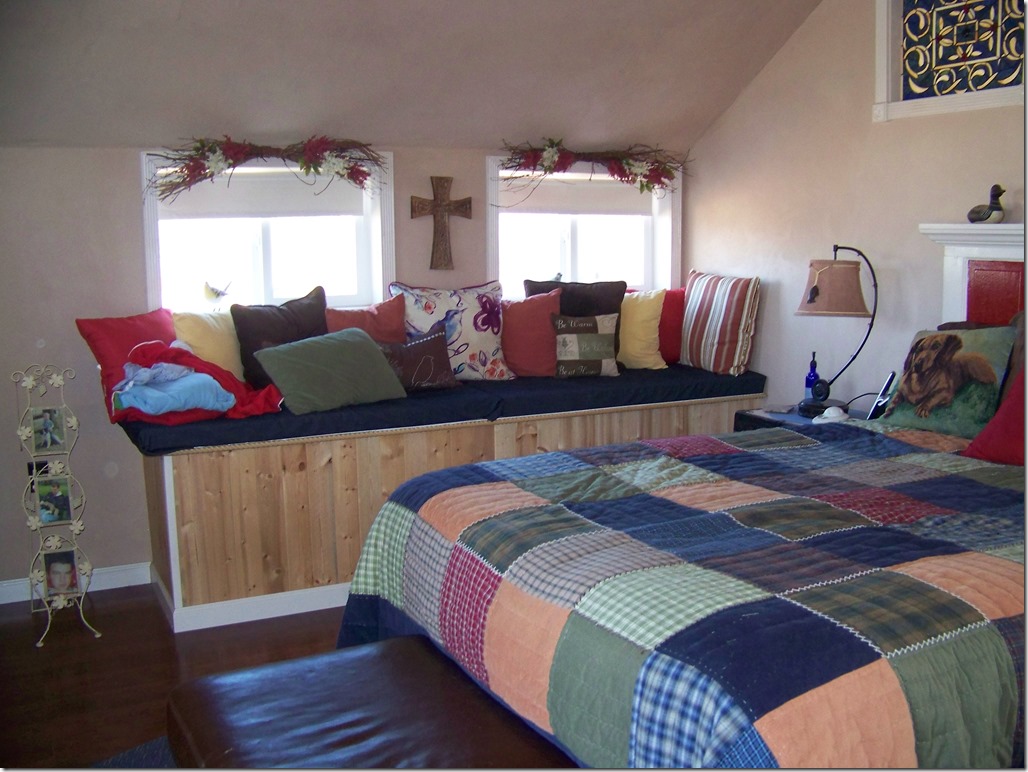 Here is another view. I love the bench seat for the view and all the storage it provides.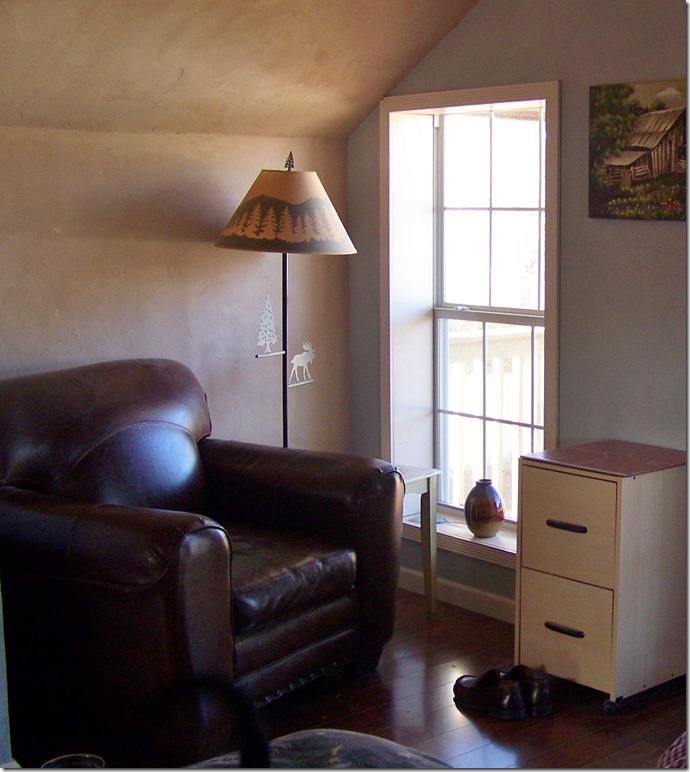 I enjoyed the corner area but I love it better now. You'll see!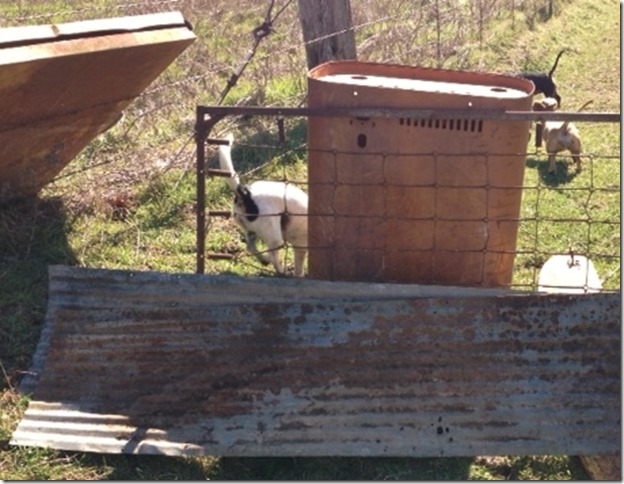 Ok, here are some of the treasures I found locally while digging through a pile of junk.
I will use most of what you see here.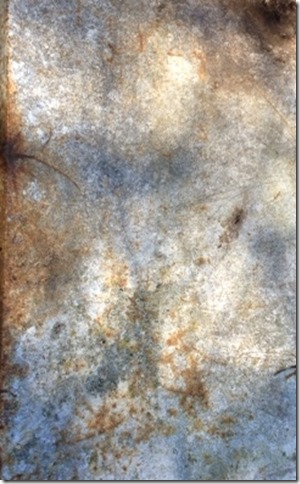 I know this is not a great picture but this is what we saw when we were digging
through a pile of metal, about five feet high.
I thought I could use it as a top for a work table.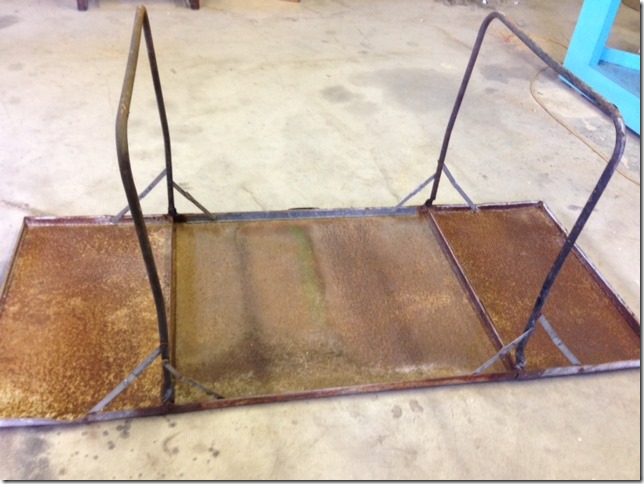 When we finally got it out from under all the other junk, it was a metal table!!! I painted
the legs with spray paint I had on hand, metallic brown.
When you live 20 miles from you learn to use what you have.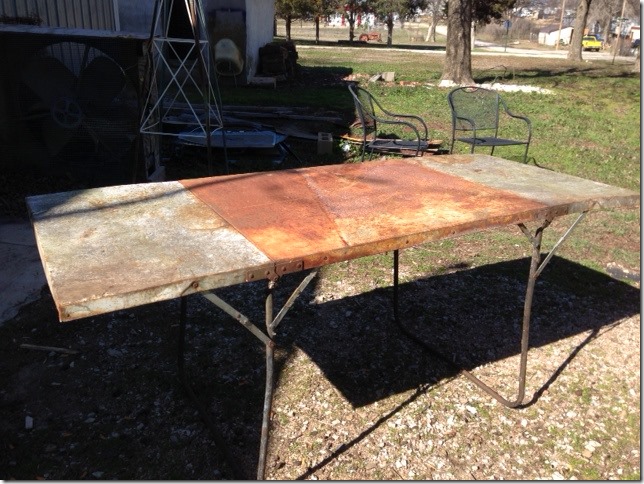 Can you believe it? A metal table with ends that fold up for storage. I only sanded the
top and then sealed it. I love the color just like it is. After all, this is a work table.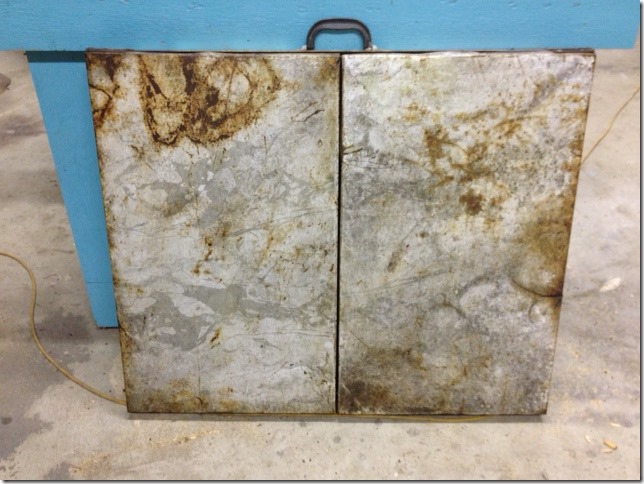 Dang, it even folds up and has a handle to carry it with too!! Gosh, I love it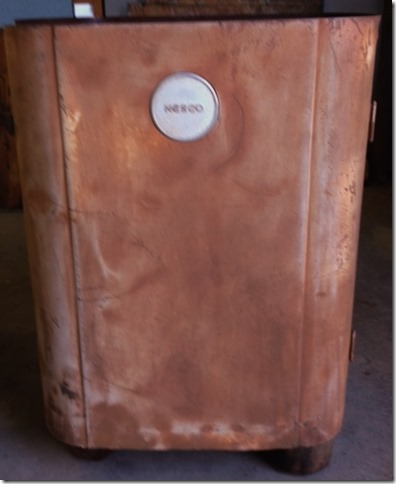 Do you know what this was in it's heyday?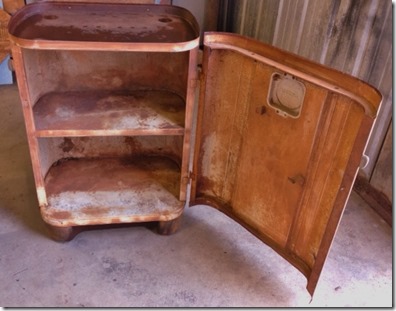 Here is another picture. Any clue yet?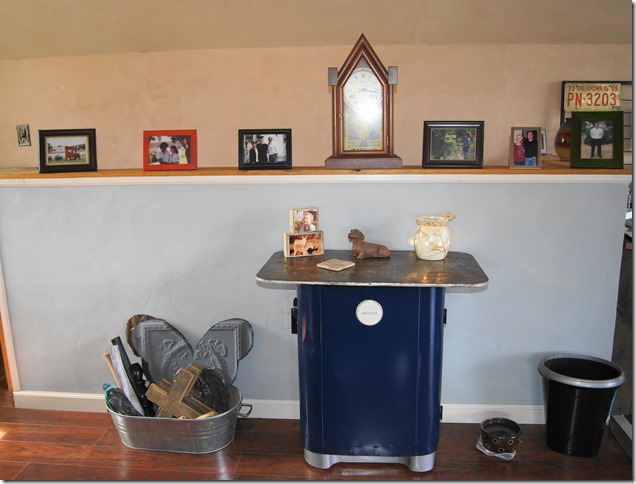 It was a Nesco roasting oven with stand in the 1940's. The roasting oven sat on top.
I decided to sand it and spray paint it, navy blue and use it to store my paints upstairs.
Keeps everything neat and tidy when we have overnight guest.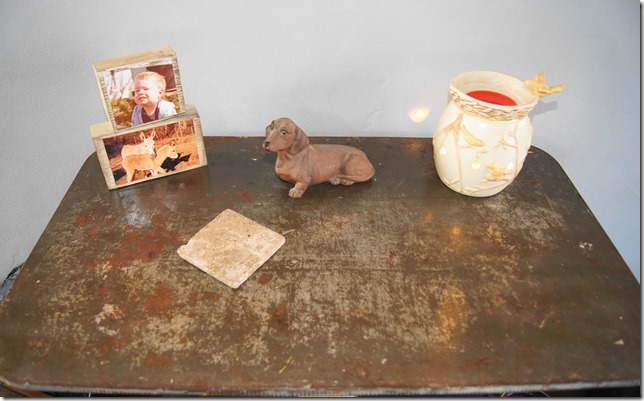 The top is wood and metal mat that you would set a heating stove on. Honey mounted
it the top for me. Didn't paint it either, by now you probably have figured that I love metal,
especially rusty metal!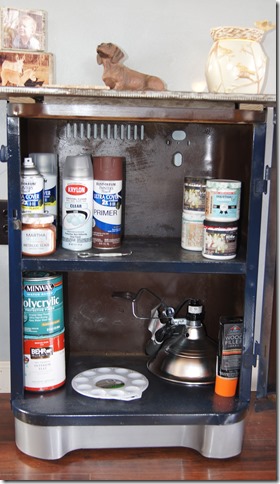 Here is a look at the inside. Great for my spray paints and other paints.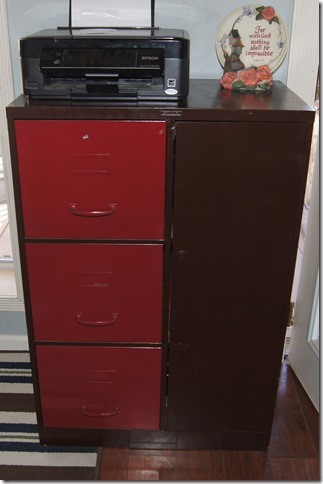 Already had this but we got it free about 7 years ago. Gave it a paint job and it
works great for my tools!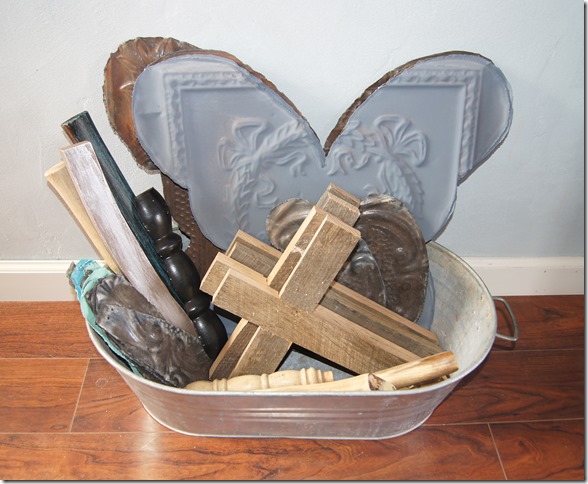 Galvanized tub to hold my projects in!!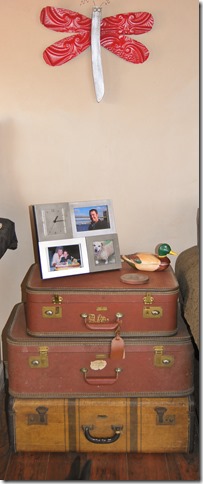 I finally found use for those suitcases that I bought last summer!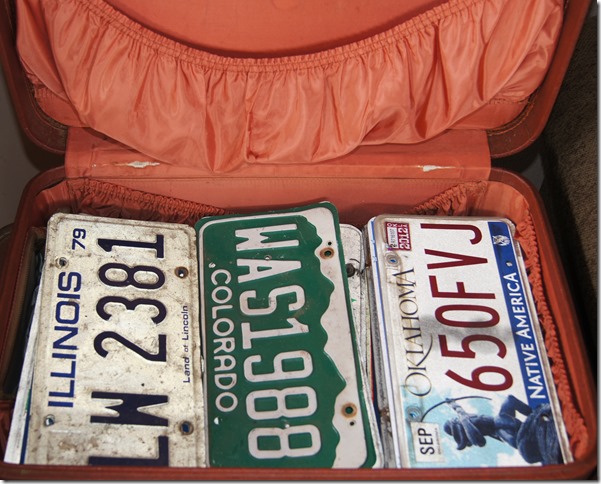 End table while storing my license plates I use for dragonflies!!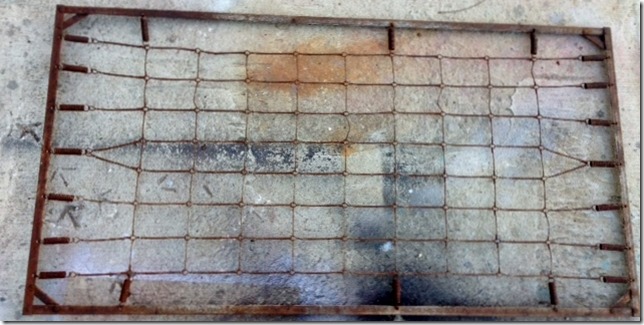 Thanks to inspiration from Funky Junk Interiors , From this…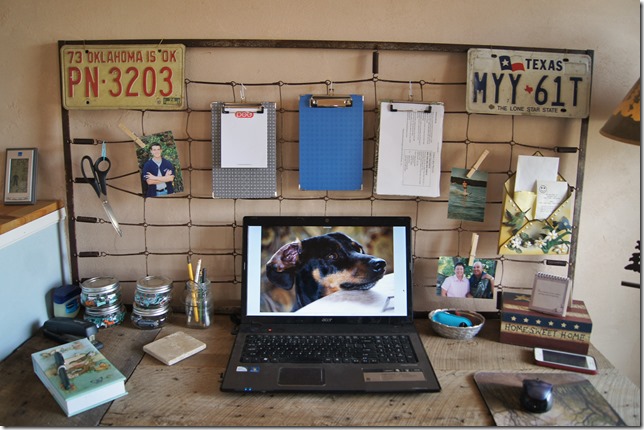 To this… I use small clipboard to hold my orders and packing slips. Cloths pins to hang
photos of my two favorite guys! I also had a few small mason jars that I have used to
store my paperclips, thumbtacks and etc.. My puppies always have a way of showing
up in the shot I am taking. That is our precious Idgie Bear
Just a quick note about my desk. Honey made it for me using
my grandma's sewing machine base and lumber from my grandpa's
old home place. I love being able to repurpose using items that were
apart of our family history.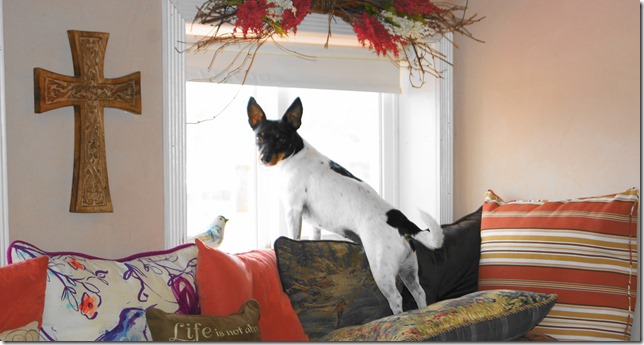 It just would not be fair if I didn't include a picture of Roxy on the bench seat. This is where
she hangs out while I work on my projects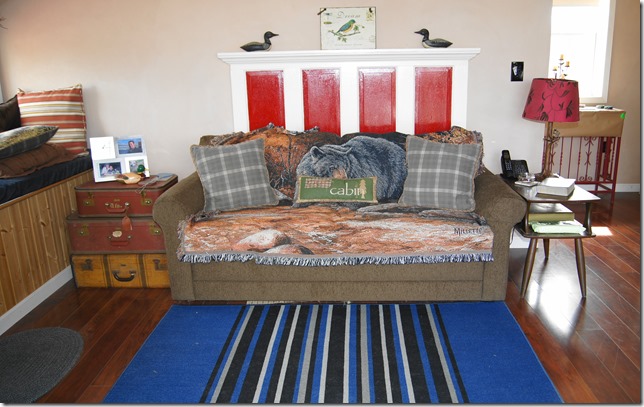 And finally, here is a view of our sleeper sofa. This is perfect for when we have company! We also
love coming up and watching television. Really a great view when it is raining or snowing too.
I still have our the headboard we made from an old door hanging. Just haven't got that far yet.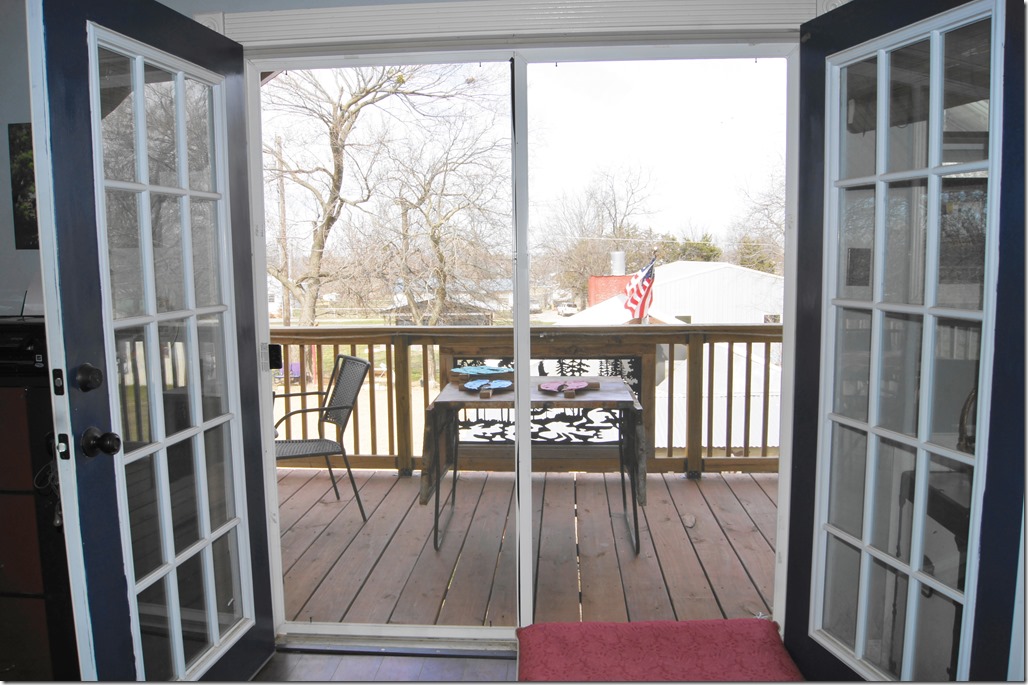 I am still tickled to death that we found that table. The fact that it is a folding table makes it even better. When the weather permits, I can set it up on the balcony and work while watching and listening the birds and squirrels. Yes, that is a doggie bed. Our girls are spoiled rotten
I hope you enjoyed seeing how we converted our bedroom to a work studio/guest room. I am so proud that we were able to find and re-purpose items for storing my tools, paints and metals for free. I even had all the spray paint!